Who is Trixie?
I am Trixie. My full-time job is running adult websites and blogs with my transsexual girlfriend. You can get to know us a lot better by joining my personal porn site where you can spy on us around the clock on our voyeurcams, watch videos of us having different kinds of sex, and access tens of thousands of our private photos.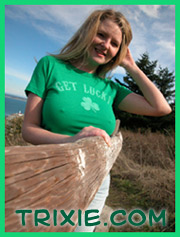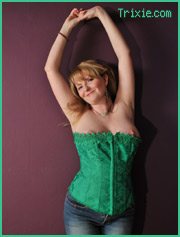 I'm not a porn "star" - I'm a regular dork-next-door who happens to be blessed with a pretty nice rack and cursed(?) with the mind of a dirty old man. Self-publishing online and running my own business as an indie pornographer gives me the chance to do a lot of different things I enjoy. You can see more of my projects & interests on my hub, web-whore.com.

What is Trixie.com?

This site, Trixie.com, is a free site to attract people to me, my blogs and my homemade porn by luring you in with free porn -- mwahahaha! I actually enjoy looking at (some) other people's porn so it's an excuse for me to "review" other people's sites. Strictly for research purposes and to provide a public service, of course! ;)

But, like, what is Trixie all about??

I and my sites are all about humanizing pornography by sharing my sexuality for profit in ways that are honest, thoughtful, provocative and fun.

"Trixie" is all about a webwhore with a voice.

How can I show my appreciation for Trixie.com?

By clicking on the links I post or review here and joining the ones you like, and/or by joining my or my girlfriend's site(s), or by telling other people you like my site(s) and they might too.